VILLA ALEVIDA IS ALREADY SOLD OUT!
We highly recommend the following housing projects:
Aspen Heights – a new low cost to mid cost housing project in Communal, Buhangin, Davao City. As of July 2012, the project is still under land development that's why the house and lot packages are still very affordable (pre-selling stage).
Chula Vista Residences – a Spanish-inspired mid cost subdivision project in Cabantian, Buhangin, Davao City.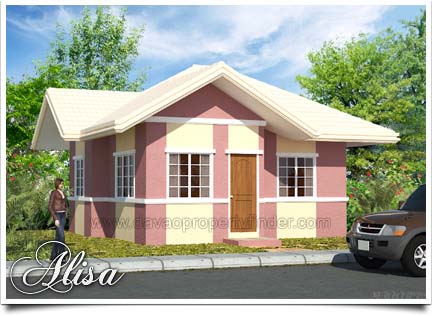 Villa Alevida is a new low cost subdivision in Davao City. Another project of Urban East Developments Inc., this low cost housing in Indangan, Cabantian, Davao City, offers affordable house and lot packages.
This new low cost housing in Davao is now accepting reservations!
For Php15,000 only, you can reserve your house and lot. (reservation fee is non-refundable but will form part of the price)
Villa Alevida Details
Category: Residential
Property Type: House and Lot | Lot Only
Description: Bungalow Type | Low Cost Subdivision
Location: Indangan, Cabantian, Davao City
Package Price: Php985,000 to Php1,250,000
Price per sq.m:
Financing Options/Terms: Pag-ibig | In-house | Bank | Deferred Cash | Spot Cash
Owner/Developer: Urban East Developments, Inc.

Lot Area: 90 to 120 square meters
Floor Area: 36 to 48 square meters
Bedrooms: 2 to 3
Bathrooms: 1
Remarks: Low cost housing in Davao City
Garage/Car Park:
Swimming Pool: None
Status:

Villa Alevida Site Photos
***As of December 2010

House and Lot Packages
Adita House

Lot area:  90 sq.m
Floor area:  36 sq.m
2 bedrooms, 1T&B
Package Price: Php985,000

PAG-IBIG FINANCING


Reservation fee: Php15,000
Equity can be payable up to 12mos
Loanable amount can be payable up to 30 years

IN-HOUSE FINANCING


Reservation fee: Php15,000
35% down payment (can ba payable up to 1yr @ 0% int.)
65% remaining balance (can ba payable up to 7 years)

SPOT CASH

: discounted


DEFERRED CASH


Option 1: 6 equal monthly payments discounted; 0% int.
Option 2. 12 equal monthly payments discounted; 0% int.

Download Price List

***updated as of June 2011

Download Requirements

Pag-ibig Checklist of Requirements
In-House Checklist of Requirements
Spot Cash Checklist of Requirements

Alisa House

Lot area: 100/110  sq.m
Floor area:  42 sq.m
2 bedrooms, 1T&B
Package Price: Php1,125,000
More about house model Alisa

Andria House

Lot area:  120 sq.m
Floor area:  48 sq.m
3 bedrooms, 1T&B
Package Price: Php1,250,000
More about house model Andria
Subdivision Features
The subdivision is in a highly accessible location in the progressive North of Davao. – close proximity to high growth areas of Buhangin, Bajada and Lanang.
Easy access to Cabantian Highway for utmost convenience. The area has approximately 350m. frontage exclusive for commercial row.
Has a beautifully landscaped grand main entrance with subdivision name marquees and wide pedestrian sidewalks on the main road.
Wide Main Road (10m ROW), Wide Collector Roads (8m ROW), Interior Roads (6.5m ROW)
All roads and sidewalks are made of concrete; has an underground drainage; and gutters
Most of the lots are facing east; premium finishes on house. (House package finishing features include premium G.I. pre-painted/ pre-baked color long span roofing, Hardiflex ceilings, all rooms partitioning, kitchen counter and cabinetry, all painted interior and exterior surfaces, and ceramic- and vinyl- tiled floors for all living areas, steel casement windows)
Landscaped area reserved for park/playground
Electricity and water supplied by DLPC and DCWD
Master-planned community: all lots are specifically devoted for a particular house model or as lot-only
Mediterranean-inspired designs and color palettes
Villa Alevida Vicinity Map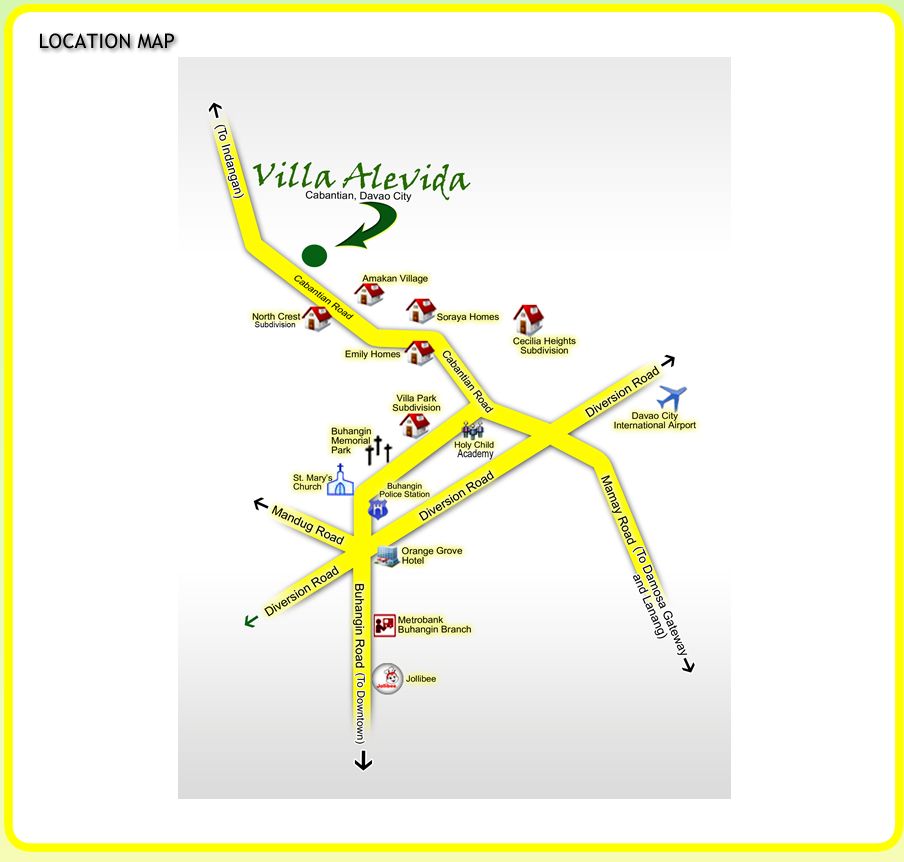 Villa Alevida Davao | Villa Alevida Subdivision
Liked this post? Share this ♥