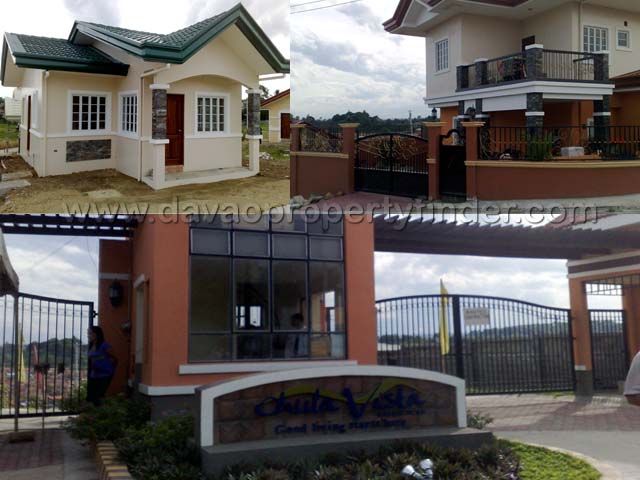 Chula Vista Residences
Welcome to Chula Vista Residences!
Chula Vista Residences is a middle class subdivision located in Cabantian, Buhangin, Davao City.
Chula Vista Davao offers seven Spanish inspired house and lot packages for you to choose from. Amenities include: a Spanish inspired gate and guardhouse, a swimming pool, a basketball court, parks and playground, and beautiful landscapes.
In Chula Vista Residences, the scenery is beautiful, vibrant and rich… The lifestyle is both serene and exciting. Chula Vista boasts of being the only middle class real property development with the best and most strategic location. Enjoy the comforts of home while being within reach of the bustling city center. Going on a trip? The Davao International Airport, Davao International Seaport and Davao Agusan National Highway are just about 20 minutes away.
Chula Vista Project Summary
Location: Cabantian, Buhangin, Davao City
Total Land Area:
Elevation:
Offered for Sale: House and Lot | Lot Only Purchase
Package Price: Php1,859,550 to Php4,023,096
Price per SQM:

Financing Options: Bank | Deferred Cash
Lot Area: 108 square meters (regular lot)
Floor Area: 32 to 92 square meters
Bedrooms: 1 to 4
Bathrooms: 1 to 3
Owner/Developer: Yes

Payment Schemes for Chula Vista Residences
RESERVATION FEE:

Php30,000 to Php50,000


*depending on house model
(reservation fee will be deducted from the downpayment)

---

PROCESSING FEE: to be paid with equity/downpayment

FINANCING OPTIONS
Spot Cash (for discounts, please view price list)
Deferred Payment
*12 months equal monthly payments at 0% interest
Bank Financing
*20% downpayment (payable up to 12 mos. at 0% int.)
*80% remaining balance (payable up to 20 years)

Click to View

Chula Vista Residences Price List as October 2015
Features and Amenities at Chula Vista
concrete roads, good drainage, telephone access, good water and power supply
concrete perimeter fence with 24-hour security
all roads leading to Chula Vista are made of concrete
accessible to public transportation.
A subdivision in Davao conveniently located in Cabantian, Buhangin.
2-3 kilometers from the international airport, seaport, and Davao to Agusan National Highway.
4-5 kilometers from the Davao Business areas
3-4 kilometers away from malls, hotels, restaurants, and other major establishments in the city.
Chula Vista Subdivision Tour. Press play!

Chula Vista main roads are 12-meter-wide. Collector roads are 10-meter wide. Minor roads are 8.5-meter-wide.
Chula Vista Photos
House and Lot Packages at Chula Vista Davao
NOTE: Price update as of October 1, 2015
Floor: 32 sq.m | Lot: 108 sq.m
1 bedroom, 1 toilet and bath
Package Cost: Php2,286,900

Floor: 36 sq.m | Lot: 108 sq.m
2 bedrooms, 1 toilet & bath
Package Cost: Php2,402,400

Floor: 42 sq.m| Lot: 108 sq.m
2 bedrooms, 1 toilet & bath
Ceramic flooring for dining room
Package Cost: Php2,575,650

Floor: 49 sq.m | Lot: 108 sq.m
2 bedrooms, 1 toilet & bath
Package Cost: Php2,777,775

Floor: 64 sq.m | Lot: 108 sq.m
3 Bedrooms, 2 Toilets & Baths
Provision for powder room
Package Cost: Php3,210,900

Floor: 75 sq.m | Lot: 108 sq.m
3 Bedrooms, 2 Toilets & Baths
Provision for powder room
Package Cost: Php3,951,948

Floor: 92 sq.m | Lot: 108 sq.m
4 Bedrooms, 3 Toilets & Baths
Provision for powder room
Package Cost: Php4,501,728
---
Chula Vista Davao | Davao subdivision
Chula Vista Residences | Chula Vista Davao | Middle Class Subdivision in Davao