Seawind Condominium is a 6-building mid-rise condominium project by Damosa Land Inc. It is a 2.7-hectare condominium complex in Sasa 11, Davao City.
Seawind's residents get to escape from the hustle and bustle of the city when they come home. A park instantly greets them into the compound, where the low-rise buildings and the many amenities are spaciously laid out. The design of the buildings doesn't just provide breathing space, but ample privacy as well. It is ideal for both single residents and families, and it will only appreciate in value through time.
Generous allocation (73%) for parks, amenities, roads, and parking!
Location
Seawind is the ideal location for metropolitan living in Davao City. It is a short ride away from the city center. Schools and businesses are accessible via public and personal transportation.
Commercial hubs like the Damosa Complex, SM Lanang, Damosa-Megaworld District, and Ayala Ansons are just stone's throw away, giving easy access to supermarkets, drugstores, and recreational establishments.
Seawind Condominium Project Summary
HLURB LTS No. SMR-15-002
Price Range: ₱ 1,404,900 to ₱4,837,100
Location: Km. 11, Sasa, Davao City
Total Land Area: 2.7 hectares
Offered for Sale: studio, 1-bedroom, 2-bedroom, penthouse
No. of Towers: 6 towers
Owner/Developer: Damosa Land Inc.
Status: Pre-selling
Target Completion:
*Tower 1: 4Q 2016
*Tower 2: est. 2017
*Tower 3: est. 2018
*Tower 4: est. 2019
*Tower 5: est. 2020
*Tower 6: est. 2020
Unti Types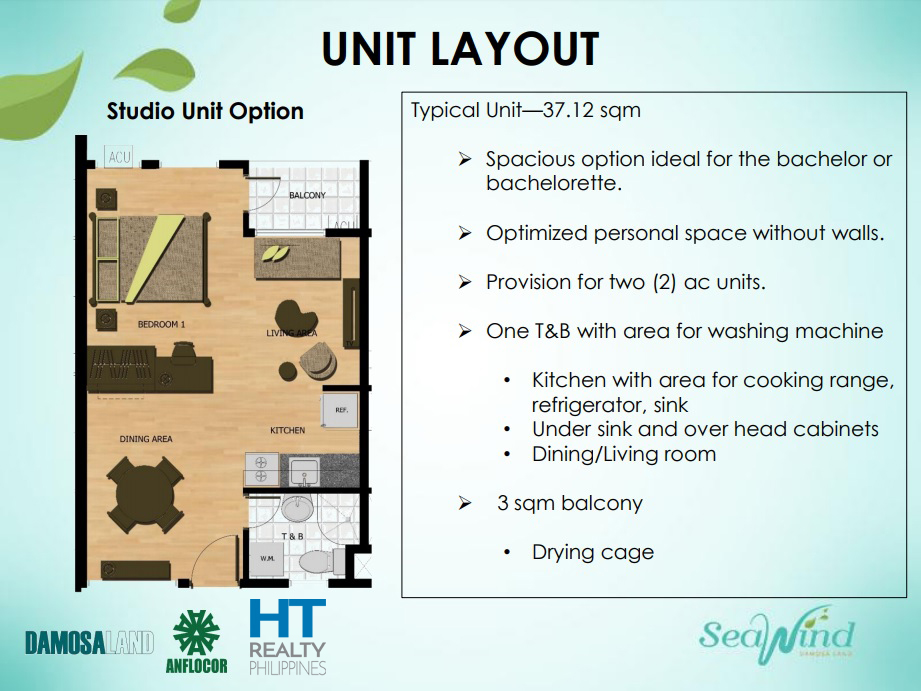 Studio Unit (sold out)
Floor: 37.12 sq.m
1 Toilet & bath
1 Balcony
Price: ₱ 1,404,900
---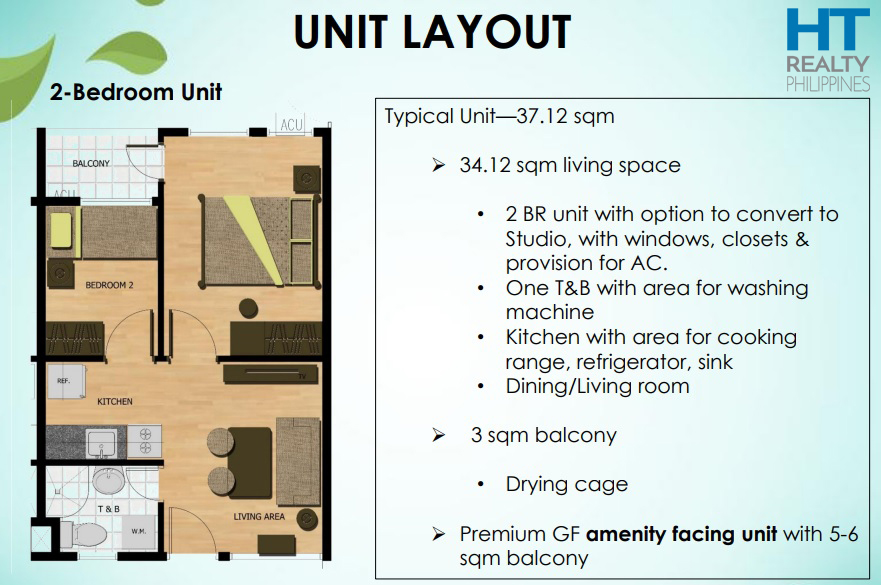 2-Bedroom Unit
Floor: 37.12 sq.m
1 Toilet & bath
1 Balcony
Price: ₱ 2,873,448
---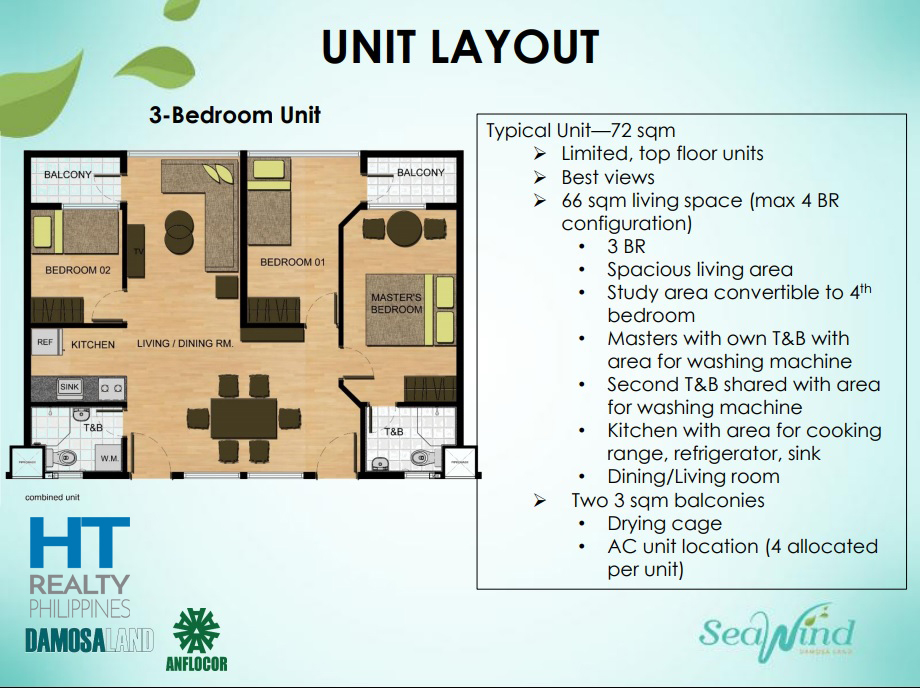 3-Bedroom Unit
Floor: 72 sq.m
2 Toilet & bath
2 Balcony
Price: ₱ 4,858,700
---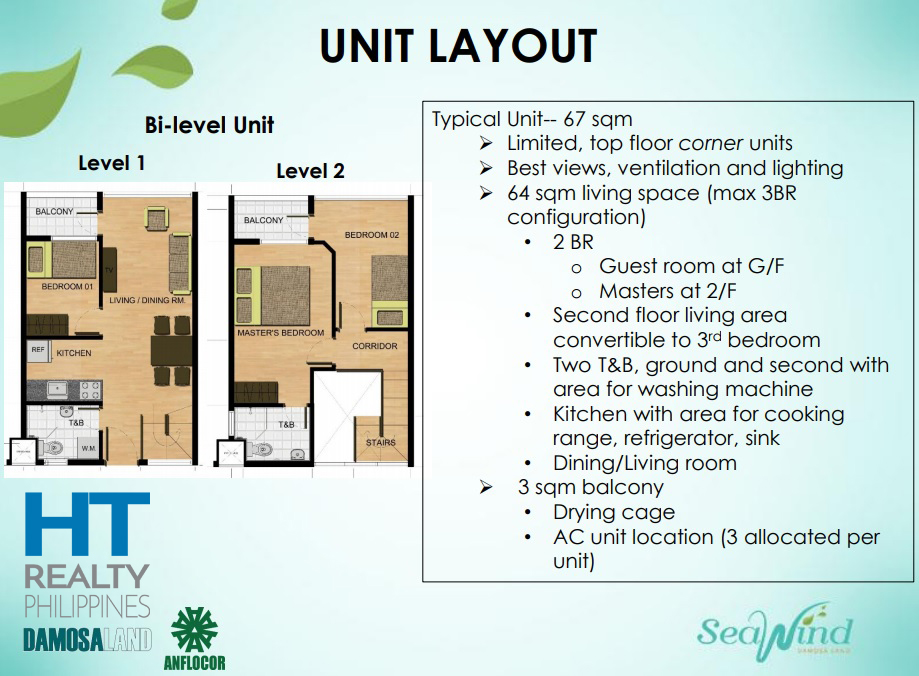 Bi-level Unit
Floor: 70 sq.m
3 Bedrooms
2 Toilet & bath
2 Balcony
Price: ₱ 4,499,800
Features & Amenities
Features and Amenities at Seawind Condo
Master Plan
Six residential towers with 7 to 8 floors each
Clubhouse
Pool
Parks
Playgrounds
Commercial strip right outside, with public transportation terminal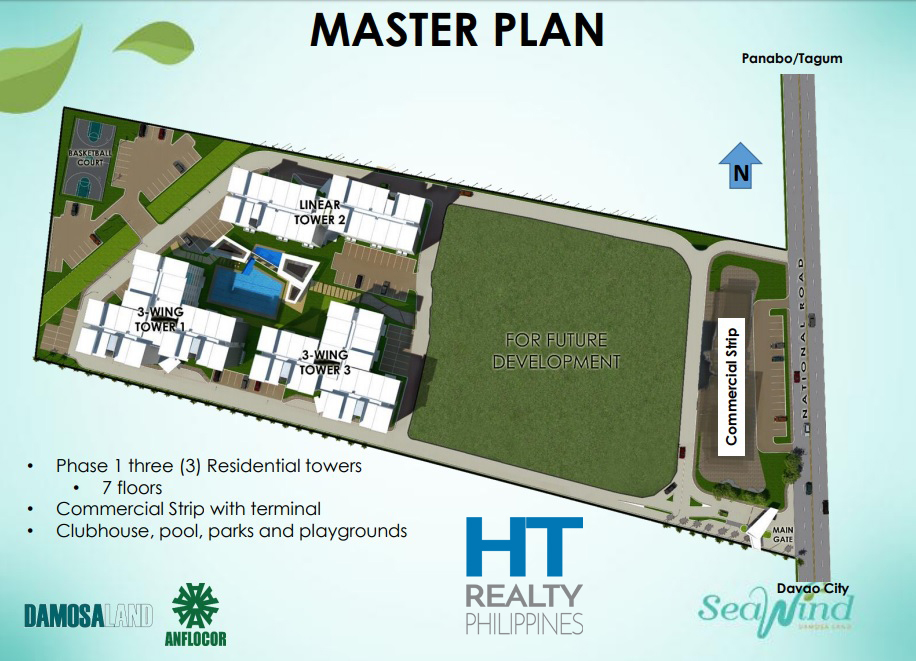 Building Layout
Three-winged building design, which ensures:
Less units sharing a hallway, for more privacy
More natural light coming into each hallway
Easier access to elevators and stairwells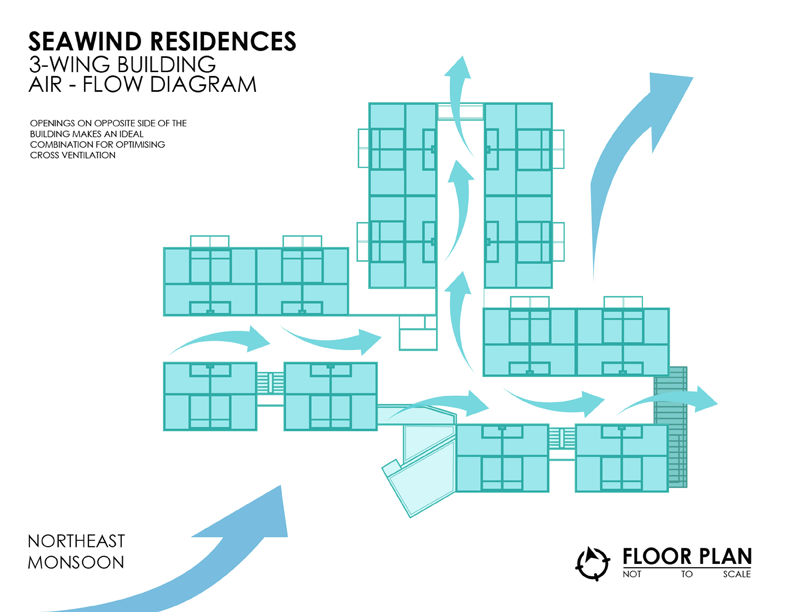 City Transport
One ride to where you need to be in Davao City.
30 minutes to Chinatown and downtown (schools) via R. Castillo or JP Laurel lines
20 minutes to Abreeza, Gaisano and Torres
15 minutes to Damosa District, SM Lanang and airport
10 minutes to the new Ayala-Ansons development
5 minutes to Gaisano Panacan
Walking distance to Sasa Ferry Terminal going to Samal
Payment Options
Payment Schemes at Seawind Condominium
RESERVATION FEE: Ph10,000
(will be deducted from the down payment)
Spot Cash
less 5% (paid within 7 days)
less 2% (paid within 30 days)
Spot Down Payment
Less __% on down payment amount
Pag-ibig Financing
15% downpayment payable up to 36 months
85% balance payable up to 25 years
Bank Financing
15% downpayment payable up to 36 months
85% balance payable up to 15 years
In-House Financing
15% downpayment payable up to 36 months
85% balance payable up to 10 years
Photos
Licensed real estate broker and appraiser based in Davao City, Philippines