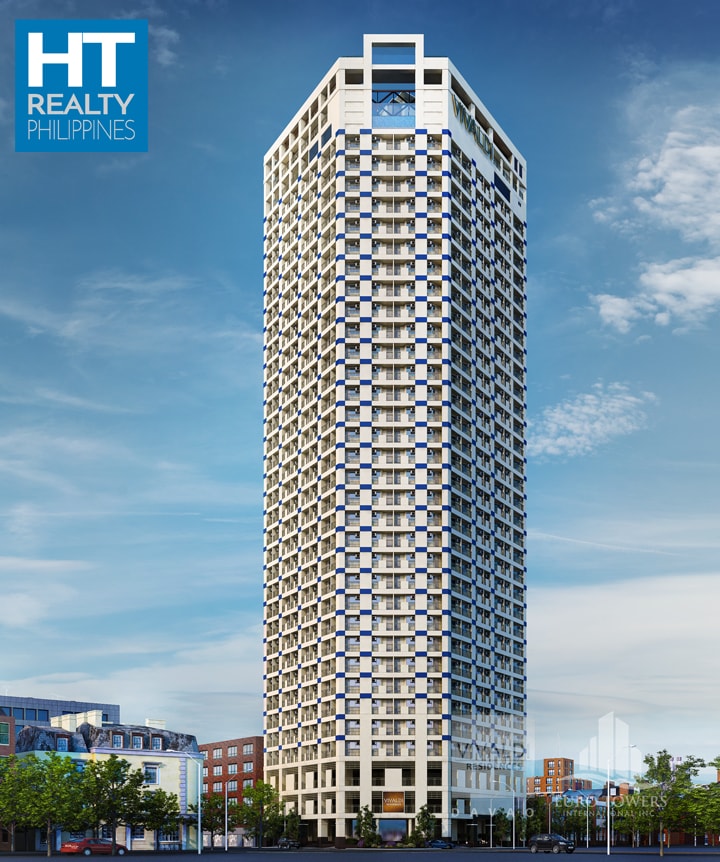 Vivaldi Davao
Fresh from the successful launch and selling of Vivaldi Residences Quezon City, EuroTowers, a prime developer in the Philippines has embarked on their second condominium project located in Davao City and will be known as Vivaldi Residences Davao.
Location
Located within Davao's prime business district, Vivaldi Residences Davao is a 36-level residential edifice and will be an excellent place for business, pleasure and the comfort of a second home.
Vivaldi Residences Davao will be in front of the Ateneo de Davao and a walking distance to parks, shopping centers, places of work, banks and other business establishments that would make living more comfortable and accessible to almost everything.
Vivaldi Residences Project Summary
HLURB LTS No. 029357
Price Range: ₱ 2,345,490 to ₱ 3,694,723.20
Location: Ecoland C.M. Recto Avenue, Davao City
Total land Area: 1,000 sq.m
Offered for Sale: studio, 1-bedroom
No. of Floors: 37 floors
Owner/Developer: Euro Towers International, Inc.
Status: Pre-selling
Target Completion: 2020
Unit Types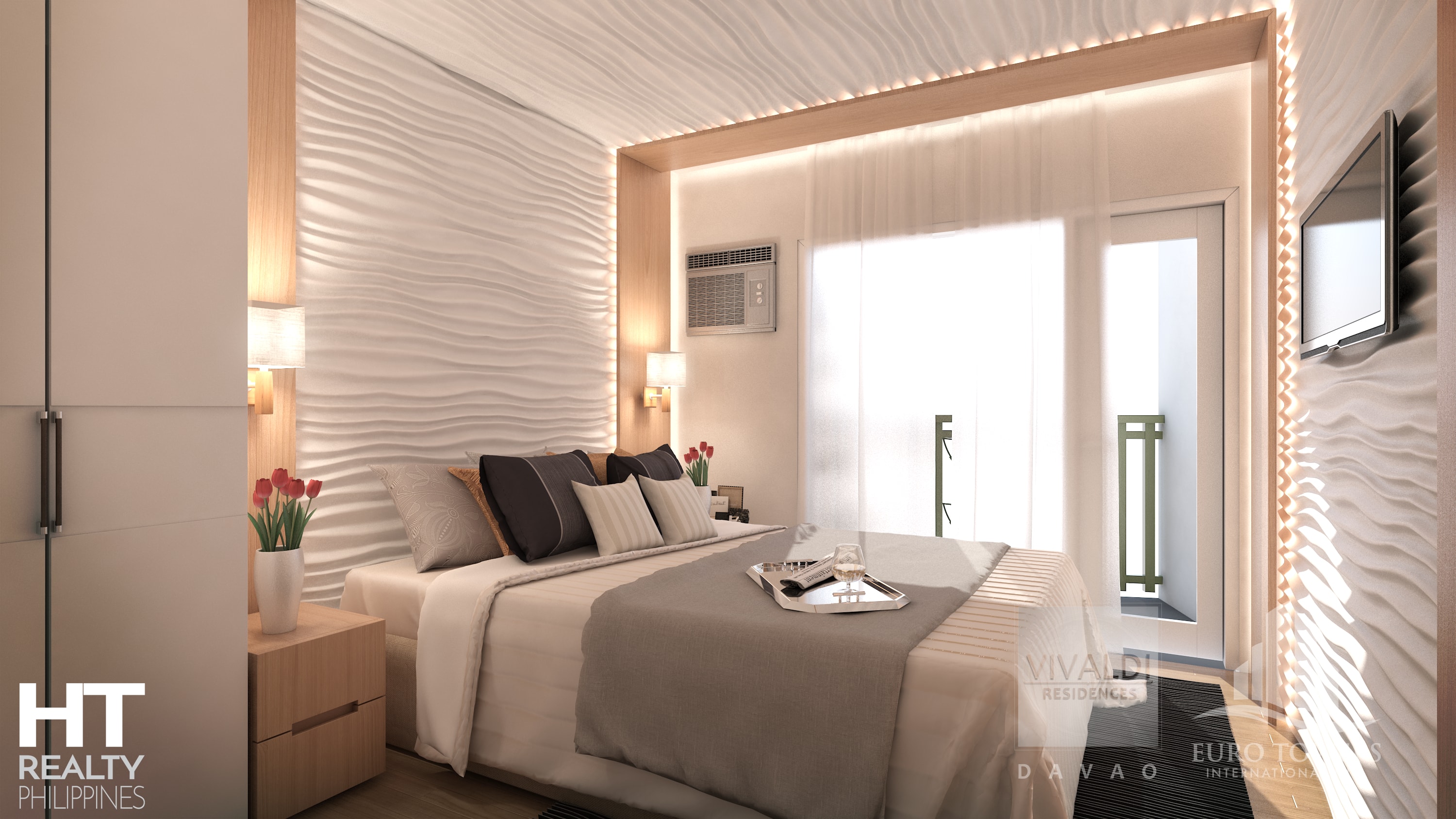 1-Bedroom Unit
Floor Area: 32.07 sq.m
1 Bedroom, 1 Toilet & bath
Price: ₱ 3,694,723.20
---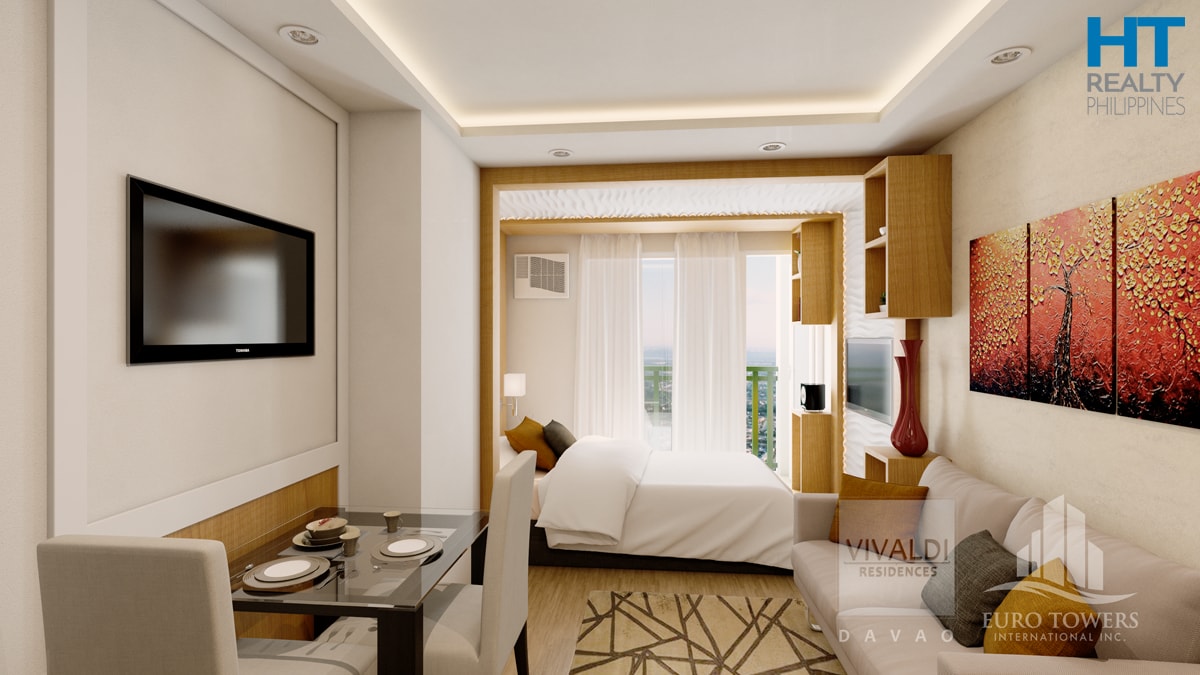 Studio Unit
Floor Area: 22,42 sq.m
1 Toilet & bath
Price: ₱ 2,345,490
---
Floor Plans
Features and Amenities
Vivaldi Features and Amenities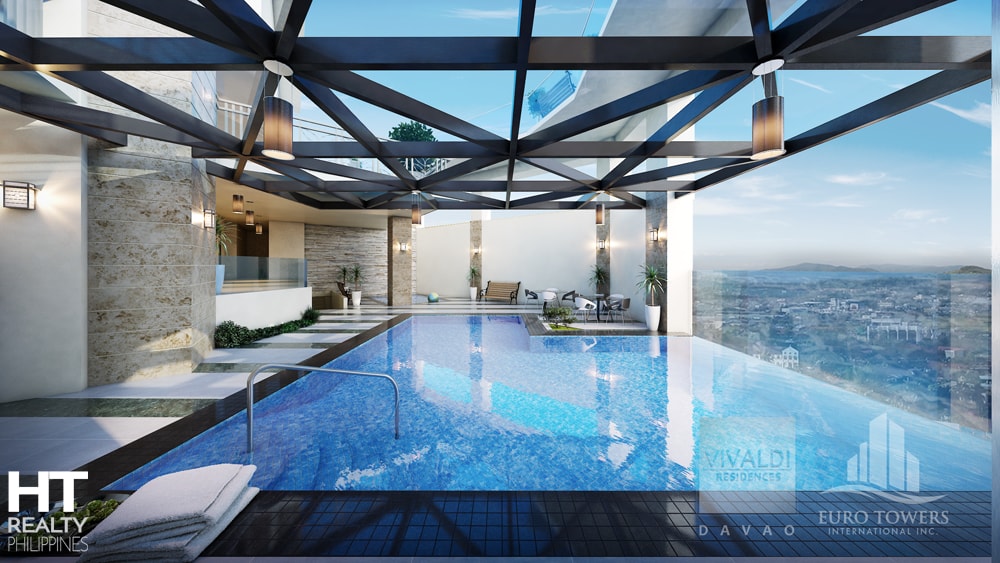 Swimming Pool
Multi-Purpose Function Rooms
Children's Playground
Jogging Area
Multi-Purpose Deck
Gym
Study Area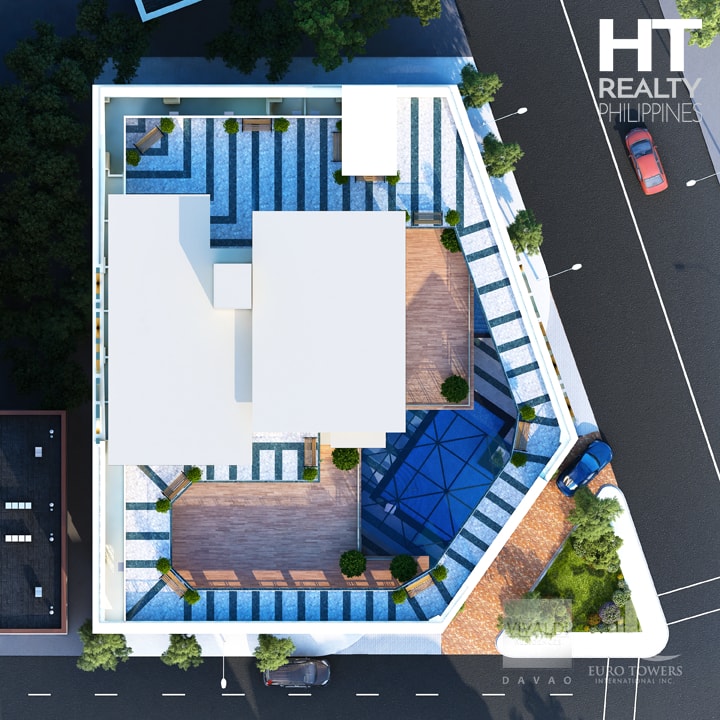 Click floor plan to enlarge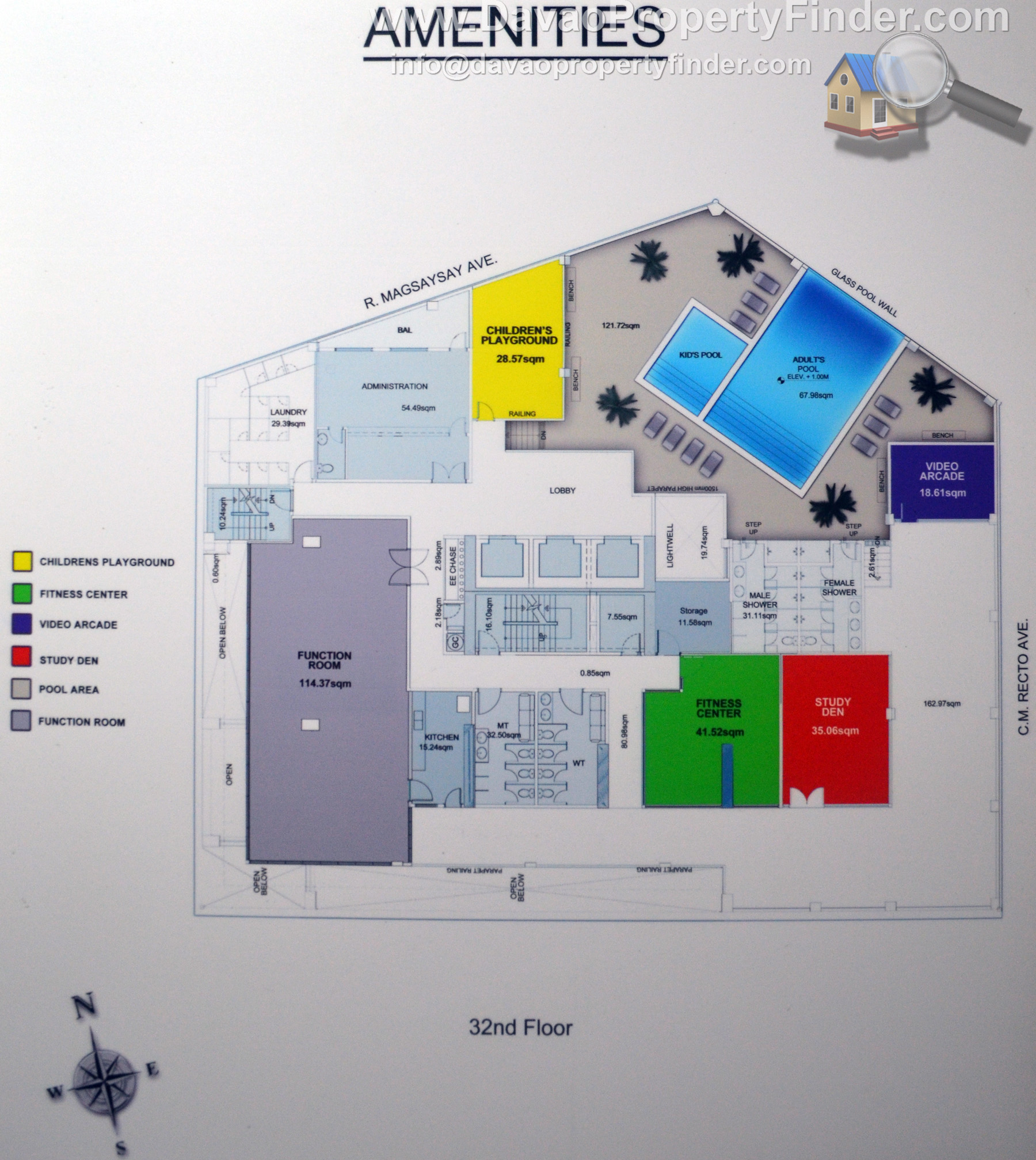 Building Features
Central Information and Assistance Counter at the Ground Floor.
Three (3) elevators with close circuit TV feature to service the residential units.
The building is equipped with Automatic Fire Suppression System working in tandem with a central fire alarm system.
Common area facilities and equipments are connected to an emergency power back-up system in case of power interruption.
The building has two (2) fire exit stairs equipped with pressurization blowers to minimize the entry of smoke inside the stairwell during fire.
Public comfort rooms for male and female located at the ground floor are provided for retail & building guests use.
Dual, underground and elevated water tank system assures ample water supply for daily consumption and fire reserve.
Closed Circuit TV at the residential elevator lobby security counter at the ground floor.
Parking levels feature a fully automated 24 hrs. traffic alarm signaling system.
Garbage chute leading to a central solid waste facility.
Multi-purpose function room, swimming pool, gym, children's playground, multi-purpose deck and jogging area located at the amenities and roof deck levels.
Twenty four (24) hours association security.
Maintenance and janitorial services for common facilities by the association.
Storage units are available for sale.
Residential Unit Features
Individual electric meter, 220 volts, single phase, Davao Light and Power Corp., will be provided for all units but buyers will pay the corresponding meter and bill deposits.
Individual water meter with water services provided by the Condominium Association.
Individual telephone outlets are provided. Unit owners shall apply for telephone service directly with telephone companies.
Provision for window type air-conditioner outlet for bedrooms only. Unit owners to provide their own air-conditioning units.
Centralized individual self-service mailbox for letters only, no packages for security reasons.
Individual TV outlets with MATV services provided by the Condominium Association. Unit owners may subscribe directly with the CATV providers for cable channel service.
Built-in kitchen cabinets and bedroom closets for all units.
Counter top stove outlet provisions for studios, 1-bedroom and 2-bedroom units while electric range outlet provision is standard for 3-bedroom units.
Unit's emergency power based on provision by the Developer.
Provision for toilet exhaust fan tapping in selected units.
Exhaust pipe provision for kitchen on all units.
Two (2) and three (3) bedroom units are provided with door bell.
Water heater tapping provision at the toilet and bath of the master's bedroom for two (2) and three (3) bedroom units.
Power and space provision for single tub washing machine in all units.
Payment Options
Payment Schemes
RESERVATION FEE:

Php15,000


(reservation fee will be deducted from the downpayment)

---

PROCESSING & TITLING: 4.5% of the list price

FINANCING OPTIONS
Spot Cash:
*cash within 7 days less 12%
*cash within 30, 60, and 90 days still with discounts
Deferred Cash:
*100% over 3 months with 4% discount
*100% over 30 months (see table of discounts)
Installment: Down payment is 20%. Balance 80%
Options for down payment:
1. 10% cash down payment, 10% stretched for 30 months,
80% balance bank or Pag-ibig financing
2. 20% down payment stretched 30 months,
80% balance bank or Pag-ibig financing

Click to view: (Update as of July 2014)
Photos
Vivaldi Residences Site Photos
Vivaldi Residence Davao Facebook Page
Visit, like and share our Facebook Page. All updated details are here for this project!
Vivald Davao
|
Vivaldi
|
Vivaldi Residences Davao
|
Eurotowers