Twin Palms Residences
Twin Palms Residences is a new subdivision in Davao City. This subdivision development is one of Kisan Lu Land's masterwork in the real estate field. Experience resort subdivision living at Twin Palms – Balinese style! Let's explore the beauty of Twin Palms Residences Davao.
Conveniently located in Maa, this subdivision is accessible to known establishments such as Gaisano Mall, Gaisano South, NCCC, and SM Mall.
Relish the Amenities at Twin Palms Davao! Swimming Pool, Clubhouse, Parks and Playground, Convenience Store, Pharmacy, Clinic, Basketball Court. Twin Palms is a Wifi-ready Community that has a 24-hour CCTV Camera on Entrance Gate and on its Perimeter Fence. There will also be 24-hour Roving Guards in the vicinity.
Twin Palms Davao Details
Category: Residential
Property Type: House and Lot
Description: Bungalow and 2 Storey Houses | Middle Class Subdivision
Location: Maa, Davao City
Package Price: Php3,640,000 to Php7,500,000
Price per sq.m:
Financing Options/Terms: Pag-IBIG | In-House | Bank
Owner/Developer: Kisan Lu Lands

Lot Area: 121 to 150 square meters
Floor Area: 55.77 to 145.43 square meters
Bedrooms:
Bathrooms:
Remarks:
Garage/Car Park: Yes
Swimming Pool: Yes
Status: For Construction

House and Lot Packages at Twin Palms
In-house financing: up to 10 years to pay
Bank financing: up to 15 years to pay
Pag-ibig Financing: up to 30 years to pay
Prices updated as of February 2013. Please contact us for details.
Lot area: 121 sq.m | Floor area: 55.77 sq.m |2 bedrooms, 1 toilet and bath
House and Lot Package Cost: Php3,640,000
Lot area: 121 sq.m | Floor area: 71.25 sq.m | 3 bedrooms, 2 toilets and baths
House and Lot Package Cost: Php4,480,000
Lot area: 150 sq.m | Floor area: 67.80 sq.m | 3 bedrooms, 2 toilets and baths
House and Lot Package Cost:

Lot area: 121 sq.m | Floor area: 96.61sq.m | 3 bedrooms, 3 toilets and baths
House and Lot Package Cost: Php4,990,000
Lot area: 150 sq.m | Floor area: 116.56 sq.m | 3 bedrooms, 3 toilets and baths
House and Lot Package Cost: Php6,150,000
Lot area: 150 sq.m | Floor area: 121.29 sq.m | 4 bedrooms, 3 toilets and baths
House and Lot Package Cost: Php6,410,000
Lot area: 150 sq.m | Floor area: 1145.43 sq.m | 4 bedrooms, 3 toilets and baths
House and Lot Package Cost: Php7,500,000
Vicinity Map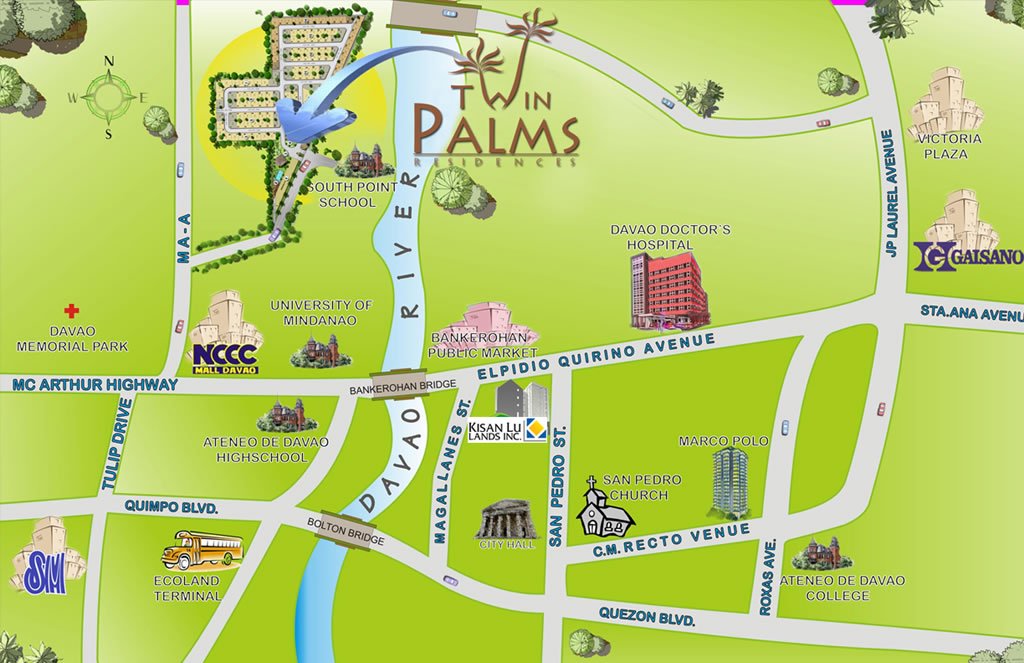 ---
Features and Amenities
Entrance Gate and Guardhouse
Perimeter Fence
Landscaped Parks
Swimming Pool
Basketball Court
Children's Playground
Underground Drainage System
Fish pond
Waste water treatment facilities
WIFI ready community
Liked this post? Share this ♥