SANTIAGO VILLAS IS ALREADY SOLD OUT!
We highly recommend the following housing projects:
Low Cost Subdivisions
Elenita Heights Phase 3
Aspen Heights
Villa Monte Maria
DECA Homes Resort Residences
Deca Homes Indangan
Greenwoods Davao
The Prestige
The Sincere
Bambu Estate
DECA Homes Esperanza
Camella Cerritos
Uraya Residences
Villa Mercedita
Apo Highlands Subdivision
Grace Park
Portville Davao
Cambridge Heights
BellaVita Davao
Middle Class Subdivisions
Ilumina Estates
Celerina Heights
Aspen Heights
Villa Senorita
La Vista Monte
Granville
Villa Monte Maria 2-Storey
Hidalgo Homes
Chula Vista Residences
Twin Palms
Villa Conchita
Camella Cerritos
Nizanta at Ciudades
Villa Monte Maria – also located in Catalunan Grande but much closer to the city compared to Santiago Villas. Pag-ibig and bank financing are accepted.
Elenita Heights Phase 3 – a more affordable option that is also located in Catalunan Grande. Pag-ibig and in-house financing are accepted.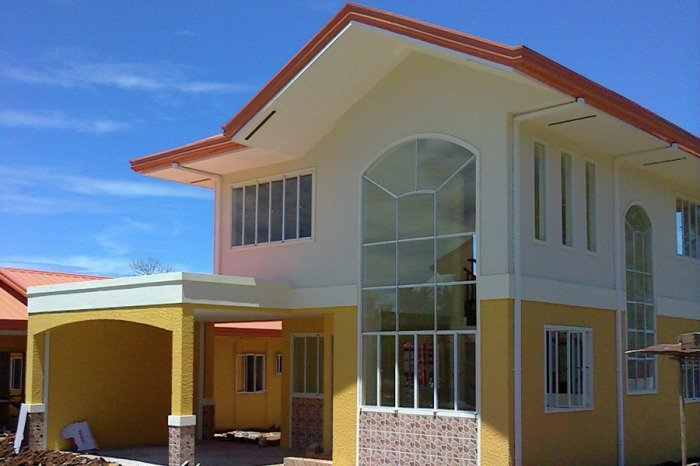 Santiago Villas Subdivision
Santiago Villas is another Kisan Lu Davao housing project located in Catalunan Grande. This low-cost to middle class subdivision has affordable bungalow and 2-storey houses for sale and for construction. This garden themed community is around 5 minutes to the public market, school, church,and commercial areas. Just a 20-minute ride to the city proper, Santiago Villas offers you and your family a home that let's you enjoy the beauty of nature.
Santiago Villas Update
Santiago Villas Details
Price:
Address:
Property Type:
Financing Options:

Lot Area:
Floor Area:
Bedrooms:
Bathrooms:

Subdivision Site Photos
More About Santiago Villas
Santiago Villas has affordable bungalow type and 2-storey houses for sale and for construction. Offered house and lot packages are named as follows: Upgraded Keisha (bungalow type), Gloria (2-storey house), Karen (2-storey house), and Linda (2-storey house). All of these house and lot packages can be availed through in-house, bank, or Pag-ibig financing.
House and Lot Packages at Santiago Villas
MINDY (Bungalow type house)
Lot Area: 143.0sq.m.
Floor Area: 39.69sq.m.
2BR, 1T&B SOLD OUT

PAG-IBIG FINANCING


Reservation fee: Php30,000
Equity can be payable up to 6mos. @ 0% int.
Loanable amount can be payable up to 30 years

IN-HOUSE FINANCING


Reservation fee: Php30,000
20% down payment (can ba payable up to 1yr @ 0% int.)
80% remaining balance (can ba payable up to 5 years)

IMPORTANT UPDATE!

4 lots left as of January 2011, click here for Santiago Villas available lots
SAMPLE COMPUTATIONSupgraded keisha 140sq.m thru Pag-ibig
upgraded Keisha 143 sq.m thru Pag-ibig
upgraded Keisha 143 sq.m thru In-Houseupgraded Gloria 143 sq.m thru Pag-ibig
upgraded Gloria 149 sq.m thru Pag-ibig
upgraded Gloria 143 sq.m In-HouseKaren 143 sq.m thru Pag-ibig
Karen 143 sq.m thru In-HouseLinda 143 sq.m thru Pag-ibig
Linda 143 sq.m thru In-House
KEISHA (Bungalow type house)
Lot Area: 143.0sq.m.
Floor Area: 56.28sq.m.
3BR, 2T&B
GLORIA (2-storey house)
Lot Area: 143.0sq.m.
Floor Area: 91.37sq.m.
4BR, 3T&B
KAREN (2-storey house)
Lot Area: 143.0sq.m.
Floor Area: 125.74sq.m.
3BR, 3T&B
LINDA (2-storey house)
Lot Area: 143.0sq.m.
Floor Area: 130.30sq.m.
4BR, 3T&B
Subdivision Vicinity Map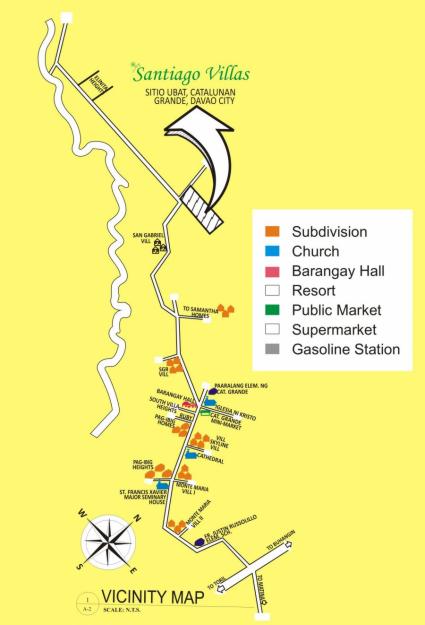 Santiago Villas Davao City | Santiago Villas Subdivision