SANTIAGO VILLAS IS ALREADY SOLD OUT!
We highly recommend the following housing projects:
Villa Monte Maria – also located in Catalunan Grande but much closer to the city compared to Santiago Villas. Pag-ibig and bank financing are accepted.
Elenita Heights Phase 3 – a more affordable option that is also located in Catalunan Grande. Pag-ibig and in-house financing are accepted.
Santiago Villas Subdivision
Santiago Villas is another Kisan Lu Davao housing project located in Catalunan Grande. This low-cost to middle class subdivision has affordable bungalow and 2-storey houses for sale and for construction. This garden themed community is around 5 minutes to the public market, school, church,and commercial areas. Just a 20-minute ride to the city proper, Santiago Villas offers you and your family a home that let's you enjoy the beauty of nature.
Santiago Villas Update
Santiago Villas Details
Category: Residential
Property Type: House and Lot
Description: Bungalow | 2 Storey houses
Location: Catalunan Grande, Davao City
Package Price: Php1,551,400 to Php3,540,768
Price per sq.m:
Financing Options/Terms: Pag-ibig | In-house | Bank | Spot Cash
Owner/Developer: Kisan Lu Lands Inc.

Lot Area: 140 to 245 square meters
Floor Area: 39.69 to 130.30 square meters
Bedrooms: 2 to 4
Bathrooms: 2 to 3
Remarks:
Garage/Car Park: Yes
Swimming Pool:
Status: For construction

Subdivision Site Photos
More About Santiago Villas
Santiago Villas has affordable bungalow type and 2-storey houses for sale and for construction. Offered house and lot packages are named as follows: Upgraded Keisha (bungalow type), Gloria (2-storey house), Karen (2-storey house), and Linda (2-storey house). All of these house and lot packages can be availed through in-house, bank, or Pag-ibig financing.
House and Lot Packages at Santiago Villas
MINDY (Bungalow type house)
Lot Area: 143.0sq.m.
Floor Area: 39.69sq.m.
2BR, 1T&B SOLD OUT

PAG-IBIG FINANCING


Reservation fee: Php30,000
Equity can be payable up to 6mos. @ 0% int.
Loanable amount can be payable up to 30 years

IN-HOUSE FINANCING


Reservation fee: Php30,000
20% down payment (can ba payable up to 1yr @ 0% int.)
80% remaining balance (can ba payable up to 5 years)

IMPORTANT UPDATE!

4 lots left as of January 2011, click here for Santiago Villas available lots
SAMPLE COMPUTATIONSupgraded keisha 140sq.m thru Pag-ibig
upgraded Keisha 143 sq.m thru Pag-ibig
upgraded Keisha 143 sq.m thru In-Houseupgraded Gloria 143 sq.m thru Pag-ibig
upgraded Gloria 149 sq.m thru Pag-ibig
upgraded Gloria 143 sq.m In-HouseKaren 143 sq.m thru Pag-ibig
Karen 143 sq.m thru In-HouseLinda 143 sq.m thru Pag-ibig
Linda 143 sq.m thru In-House
KEISHA (Bungalow type house)
Lot Area: 143.0sq.m.
Floor Area: 56.28sq.m.
3BR, 2T&B
GLORIA (2-storey house)
Lot Area: 143.0sq.m.
Floor Area: 91.37sq.m.
4BR, 3T&B
KAREN (2-storey house)
Lot Area: 143.0sq.m.
Floor Area: 125.74sq.m.
3BR, 3T&B
LINDA (2-storey house)
Lot Area: 143.0sq.m.
Floor Area: 130.30sq.m.
4BR, 3T&B
Subdivision Vicinity Map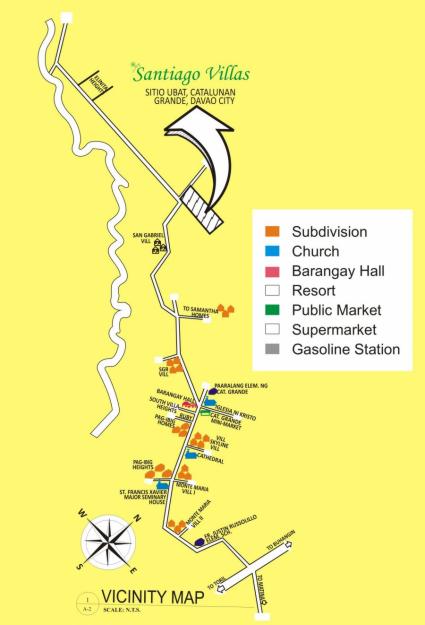 Santiago Villas Davao City | Santiago Villas Subdivision
Liked this post? Share this ♥