PRISCILLA ESTATE IS ALREADY SOLD OUT!
If you like Priscilla Estate, you are probably also going to like LA VISTA MONTE SUBDIVISION – a middle class to high end subdivision project that is also owned by the developer of Priscilla Estate. Visit the La Vista Monte web page to view house video tours, photos, and details.
Priscilla Estate Subdivision
Priscilla Estate is a middle class subdivision in Davao City. Just a 5-minute drive to the international airport, Priscilla Estate offers houses for construction and ready for occupancy houses for sale in Davao. This subdivision development in Buhangin offers elegant bungalow and 2-story houses that can be financed thru in-house or bank financing.
View more actual house photos below this page | Davao subdivision | 2 story houses in Davao
Priscilla Estate Details
Category: Residential
Property Type: House and Lot | Lot Only
Description: Bungalow | 2 Storey houses | Middle Class Subdivision
Location: Cabantian, Buhangin, Davao City
Package Price: Php2,800,000 to Php5,966,000
Price per sq.m: Php5,000 to Php5,110
Financing Options/Terms: In-house | Bank | Deferred Cash | Spot Cash
Owner/Developer: Santos Land Development Corp.

Lot Area: 150 to 350 square meters
Floor Area: 68 to 119 square meters
Bedrooms: 2 to 4
Bathrooms: 2 to 3
Remarks:
Garage/Car Park: Yes
Swimming Pool: None
Status: For construction and Ready for Occupancy

Sample Houses at Priscilla Estate
More About Priscilla Estate
Why Choose Priscilla Estate?
Priscilla Estate is developed by the same company as La Vista Monte, a middle class to high-end subdivision project in Davao City. The subdivision offers beautiful and affordable bungalow and 2-story houses for sale. The developer, Santos Land Development Corporation, brings you brand new homes complete with built in cabinets, polished granite flooring, granite kitchen counter tops with hanging cabinets, toilet and bath fixtures, beautiful french windows, and more (gate and landscaping included). You may even choose the color of your house (provided that the specific house you want hasn't been painted yet). If you are looking for a good quality house for sale in Davao, check out Priscilla Estate as the houses here are also built using the cast-in-place construction technology. This Davao subdivision has a perimeter fence and offers 24-hour security. Has ready lines for TV/Cable and telephone.
Priscilla Estate Clubhouse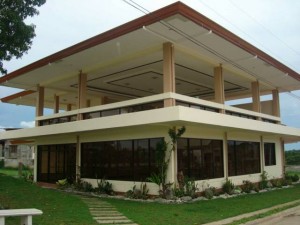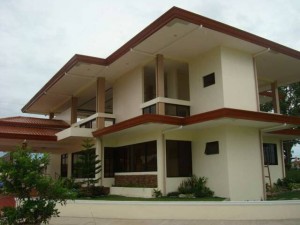 Priscilla Estate House and Lot Photos
Click here to view more sample houses at Priscilla Estate
Price List and Terms
How can you purchase a house and lot at Priscilla Estate?
First, contact us for updates to know the availability of ready for occupancy houses and houses for construction. Then, we can schedule a site viewing/tripping for you or your representative/trustee here in Davao City. If you decide to purchase the property, you can reserve it for Php50,000 (which is deductible from the down payment).

Processing fee/inital docs: Php7,000IN-HOUSE FINANCING
Reservation fee: Php50,000 (will be deducted from the DP)
30% down payment payable in 3 months
70% payable up to 3 yearsLOT ONLY PURCHASE: can be up to  5 years to pay thru in-house financing
BANK FINANCING
Reservation fee: Php50,000 (will be deducted from the DP)
20% down payment payable in 3 months
80% remaining balance payable up to 15 years depending on loan approval
SPOT CASH: discounted

Note: Price lists updated as of AUGUST 2011
Priscilla-Estates-PH1-Price List-August-2011
Priscilla-Estates-PH2-Price List-August-2011
Priscilla-Estates-Lots-Price List-August-2011
Buyer's Requirements
Priscilla Estate | Priscilla Estate Subdivision Davao City, Philippines | Davao Subdivision
Liked this post? Share this ♥