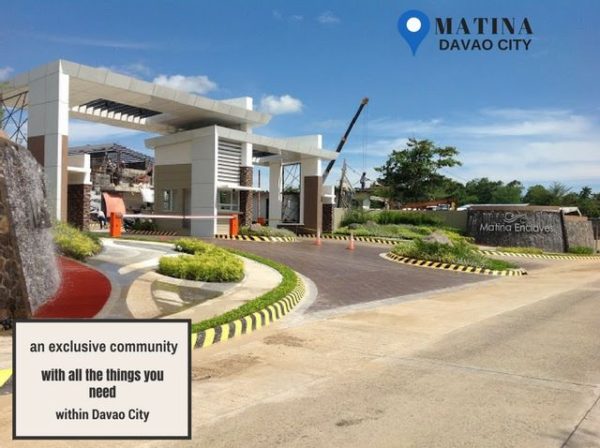 The Courtyard is a high-end subdivision project within the beautiful mixed-use development called Matina Enclaves.
Esdevco proudly introduces its maiden project, the boutique, mixed-use development – Matina Enclaves. Matina Enclaves lets you enjoy life in an exclusive community with all the things you need within Davao City. In the midst of bustling Matina district, this exciting project is set to redefine lifestyle options.
Matina Enclaves is home to The Plains (premium lots – currently SOLD OUT), The Enclaves Residences (6-building mid-rise condominium project), The Courtyard (house and lot packages), and commercial spaces.
Fine-crafted, contemporary, single-detached houses…
House and Lot Packages at Matina Enclaves Courtyard
House Model
Sepia House and Lot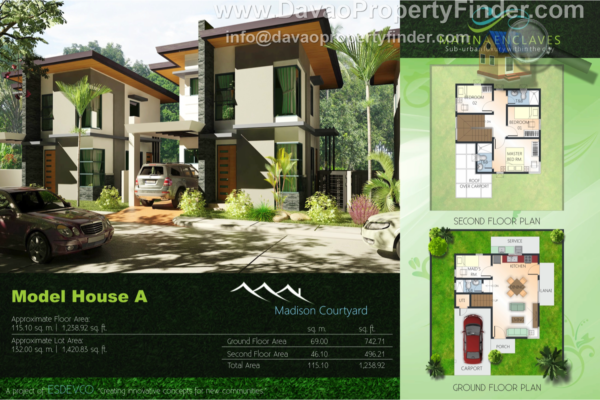 Model House Sepia
Lot: 132 sq.m | Floor: 115 sq.m
3 bedrooms | 3 toilets and baths
Maid's quarter with toilet and bath
Living, dining, kitchen, utility room, porch, carport, lanai, service area
Package Price: ₱ 6,750,000
---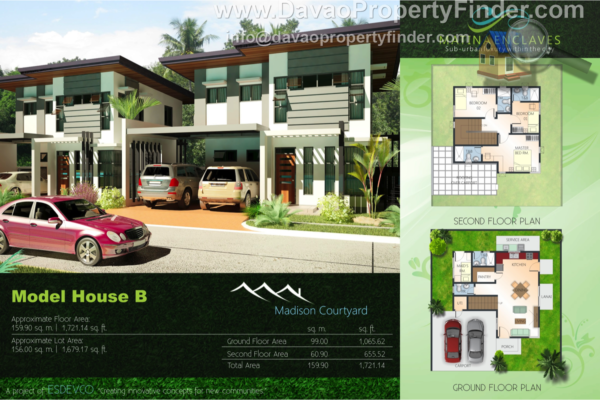 Model House Braun
Lot: 156 sq.m | Floor: 159.90 sq.m
3 bedrooms | 4 toilets and baths
Maid's quarter with toilet and bath
Living, dining, kitchen, utility room, pantry, powder room, storage room, porch, carport, lanai, service area
Package Price: Php 8,050,000
---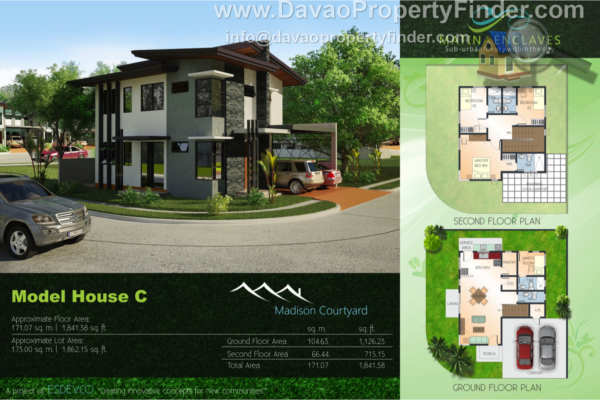 Model House Genta
Lot: 173 sq.m | Floor: 171.07 sq.m
3 bedrooms | 4 toilets aand baths
Master bedroom with walk-in closet
Maid's quarter with toilet and bath
Living, dining, kitchen, powder room, storage room, porch, carport, utility area
Package Price: Php 9,050,000
---
Features & Amenities
Cluster entry
Security Central park
Perimeter fence
24-hour Security
Gym
Swimming Pool
Payment Options
Payment Schemes at The Courtyard
RESERVATION FEE: Php50,000
(reservation fee will be deducted from the downpayment)

---

PROCESSING & TITLING: 5% of the list price

FINANCING OPTIONS
Spot Cash: 7% discount on TCP
Spot Down Payment: 4% on DP (within 30 days)
Deferred Cash:
***Total contract price divided by 12, 24, or 36 months

TCP in 12 months straight monthly @ 0% int.  (less 2% discount)
TCP in 24 months straight monthly @ 0% int. (less 1% discount)
TCP 36 months straight monthly @ 0% int.

Installment:
***Down payment is 20%. Balance 80%
Options for down payment (20%):

DP payable within 3 months (less 2% discount on DP)
DP payable within 6 months (less 1% discount on DP)
DP payable within 20 months

80% balance through in-house or bank financing

Click to view: (Update as of August 2014)

The Courtyard Price List as of August 2014 CLICK HERE
Availability Chart as of August 2014 CLICK HERE
Photos
Site Development Update as of August 2014