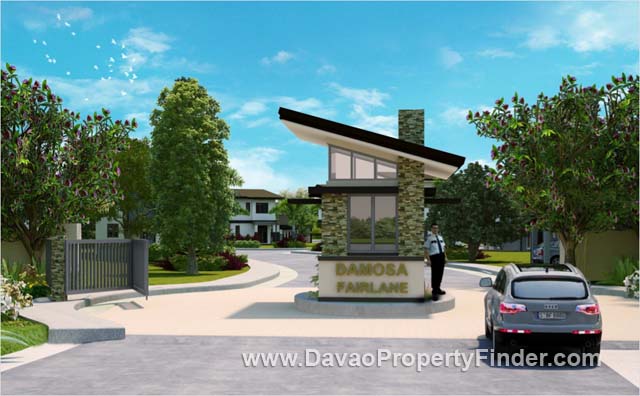 Damosa Fairlane
Distinctive, innovative, and modern.
Damosa Fairlane offers a sophisticated, secure, and environmentally-friendly city living experience for your family.
Raise your lifestyle to a brand new level and enjoy the pleasure of living in style.

More about Damosa Fairlane
Damosa Fairlane is a high-end subdivision project conveniently-located near Davao's latest lifestyle and commercial centers: Damosa District, Abreeza, and SM Lanang. This housing project is an easy drive to places of work and schools.
Accessibility
Commercial

•Abreeza
• SM Lanang
• Damosa
District

 
Schools


- 10 minutes




- 3 to 4 minutes – 3 to 4 minutes




• Philippine Nikkei – Jin Kai




International School – 3 to 4 minutes




• Mindanao Kokusai Daigaku




- 3 to 4 minutes




• University of Immaculate Concepcion – 7 minutes

Institutions


• F. Bangoy International




Airport -10 minutes




• Carmelite Monastery – 3 to 4 minutes




• Davao Medical Center – 7 minutes
Damosa Fairlane House and Lot Packages
Price starts at Php5,323,354
(Price depends on lot size)

Cortina House and Lot

Floor area: 100 sqm

Min. lot area: 120 sqm
3 Bedrooms
- Master's w/ built-in-closet
3 Bathrooms
- Master's Toilet & Bath
- Common Toilets & Bath G/F & 2/F
Trellised Lanai Maid's room Service/ utility area Trellised Carport

Damosa Fairlane Development Summary

Total Land Area: 67,770.00 sqm
No. of Saleable Lots: 274 home sites

Minimum Lot Cut: 120-144 sqm

Typical Lot Dimension: 10x12mts.

Roads: 10.00m–12.00m

Damosa Fairlane Sample Computation

Damosa Fairlane Price List as of June 2013

Damosa Fairlane Features and Amenities

Damosa Fairlane Subdivision Map

Damosa Fairlane Requirements

Payment Options
• Reservation Fee: 50,000
• Payment Options:
1. CASH : 5% discount within 30 days.
2. DEFERRED CASH : 24 months at zero interest
3. TERM PAYMENT:
• Down Payment: 30% over 24 months
• 70% Balance upon house acceptance
– Secured by PDC with option to withdraw in lieu of bank take-out
guaranty

Price starts at Php6,447,044
(Price depends on lot size)

Marquis House and Lot

Floor area: 122 sqm

Min. lot area: 144 sqm
3 bedrooms
2.5 bathrooms
- Master's Toilet & Bath

- Common Toilet & Bath (2F) Powder room (GF)
Trellised Lanai
Maid's room with toilet & bath Trellised carport

Price starts at Php7,600,870
(Price depends on lot size)

Lincoln House and Lot

Floor area: 147 sqm.

Min. lot area: 144 sqm.
3 Bedrooms
3.5 Toilets & Baths
- Master Toilet & Bath

- Bedroom 1 Toilet & Bath

- Bedroom 2 Toilet & Bath
Powder room (GF)
2 Trellised Lanais
Service/utility area
Maid's room w/ toilet and bath
Trellised carport

Price starts at Php9,130,450
(Price depends on lot size)

Grand Marquis House and Lot

Floor area: 170 sqm
Min. lot area: 180 sqm (min)
15 meter wide frontage
Foyer and spacious living room
Family room opening to a trellised lanai
Powder room
3 bedrooms
- Master suite with walk-in closet and toilet and bath
- 2 rooms with own toilet and bath
Maids' quarters with own toilet and bath
Service/Utility area
2-car garage
>> VIEW GRAND MARQUIS FLOOR PLAN AND MODEL UNIT

Price starts at Php10,400,600
(Price depends on lot size)

Lincoln MK2 House and Lot

Floor area: 200 sqm.
Min. lot area: 180 sqm. (min)
15 meter wide frontage
3 Bedrooms
- Master suite with vanity area, walk-in closet, and toilet and bath
- 2 rooms with own toilet and bath
Maids' quarter with own toilet and bath
Foyer and spacious living room
Family room open to a trellised lanai
Ground floor toilet and bath
Service/utility area
2-car garage
>> VIEW LINCOLN MK2 FLOOR PLAN AND MODEL UNIT

 

Price starts at Php13,561,250
(Price depends on lot size)

Mercury MK2 House and Lot

Floor area: 250 sqm.
Min. lot area: 240 sqm. (min)
20 meter wide frontage
Foyer leading to a spacious living room
Family room/convertible to guest room with toilet and bath
Dining room opening to a trellised lanai
4 Bedrooms
- 2 master suites with vanity area, walk-in closet, and toilet and bath
- 2 rooms with shared toilet and bath
Study/work area
Maids' and driver's quarters, convertible to storage area
Service toilet and bath
Ground floor toilet and bath
Service/utility area
2-car garage
>> VIEW MERCURY MK2 FLOOR PLAN AND MODEL UNIT
Damosa Fairlane
|
Damosa
Liked this post? Share this ♥