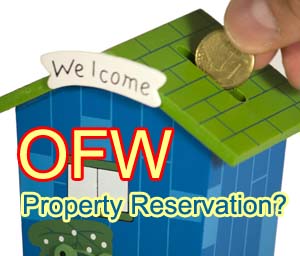 I'm an OFW – How can I reserve the house and lot?
You're an OFW who wants to purchase a house and lot in Davao City, Philippines. You've chosen the property that you like and now you want to reserve it to make sure that no one else gets hold of that specific property, may it be a house and lot, lot only, a condo unit, and etc.
There two ways on how you can reserve the property even when you are still abroad.
1. Reserve the property by using a Special Power of Attorney (SPA)
Choose a representative here in Davao City. Make sure that this person is someone you can trust. It's best if you designate one of your relatives or a family member as your trustee. Send them the reservation money through bank to bank transfer, LBC, or any other types of money transfer convenient to you. Send a Special Power of Attorney to your trustee so he/she can legally represent you. Make sure that the SPA is duly authenticated by the nearest consul in the place where you are currently residing. The authentication of the SPA may take around a month. However, you may fax or send the notarized copy so that your reservation can already be processed. Make sure to send the authenticated copy at a later time.
Here's a sample SPA:
IMPORTANT: It's always advisable to consult a lawyer before entering into any legal agreements or executing any legal documents.
GDE Error: Unable to load profile settings
2. Reserve the property through a Bank to Bank Transfer of Payment
The second option you have in reserving a property here in Davao City is to pay directly to the Real Estate Developer.
You will need the following:
The Real Estate Developer's bank account
The Real Estate Developer's contact numbers to confirm the authenticity of the bank account and the people involved.
After paying the reservation fee, kindly inform us so we can trace the incoming deposit and the developer can issue an Official Receipt (O.R.). A scanned copy of the official Receipt will be sent to you via e-mail while the original copy will be sent later via postal mail.
It's as easy as that! Even if you are living and working abroad, you can still reserve any properties for sale in Davao City.
Note:
*The Reservation Fee varies from developer to developer. Reservation fees usually range from Php5,000 to Php30,000. This may go higher depending on the developer and the type of property. For example, the reservation fee of a house and lot located in a high-end subdivision may go as high as Ph50,000.
*This reservation fee shall be deducted from the total package cost of the property.
Liked this post? Share this ♥